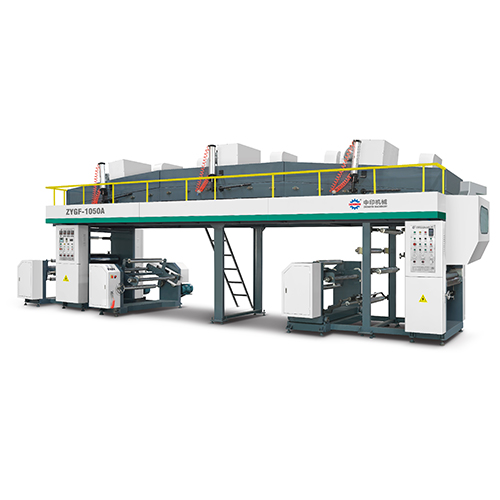 Application
This machine is suitable for the double-layer or multiple-layer lamination of such roll film material as BOPP, PET, nylon, CPP, CPE, aluminum foil and paper, etc.
Application
1. Whole machine controlled by PLC, with high running reliability and stability.
2. In-touch screen man-machine interface, 10.4"
3. Imported nine vector motor closed loop auto-tension synchronous control system
4. Anilox roller with doctor blade for coating, various of anilox rollers available for different coating amount.
5. Turret type unwinding station with EPC and auto splicing system, high speed non-stop shaft exchange (special separated single shaft available for aluminum foil laminating)
6. Turret type rewinding station with EPC and auto splicing system with pre-driver, high speed non-stop shaft exchange.
7. Movable doctor blade with pneumatic back pressure
8. Four independent constant temperature section drying system with separated heating station and hot air in feeding. Temperature is controlled automatically.
9. Pneumatic lifting drying chamber and operating platform for web passing, active synchronous running leading roller inside drying chamber.
10. Pre-heating before laminating, water cooling roller for laminated web.
11. Inflatable Air Shaft for web loading/unloading
12. Three rollers nip laminating method, laminating pressure more even to ensure higher peel strength.
| | | | |
| --- | --- | --- | --- |
| Type | ZYGF-850A | ZYGF-1050A | ZYGF-1250A |
| Laminating Width | 900mm | 110mm | 1300mm |
| Max.Printing Speed | 150m/min | 150m/min | 150m/min |
| Max. Rewind&Unwind Dia. | Φ800&Φ600 | Φ800&Φ600 | Φ800&Φ600 |
| Material Roller Inner Dia. | Innerφ76&outerφ92mm | Innerφ76&outerφ92mm | Innerφ76&outerφ92mm |
| Unwind Tension | 0-25kg | 0-25kg | 0-25kg |
| Rewind Tension | 0-30kg | 0-30kg | 0-30kg |
| Tension Control Range | 1-30kg | 1-30kg | 1-30kg |
| Heater Power | 65kw | 75kw | 85kw |
| Total Power | 80kw | 100kw | 120kw |
| Machine Weight | 8000kg | 10000kg | 12000kg |
| Machine Size | 13500×3700×4500mm | 13500×3900×4500mm | 13500×4100×4500mm |